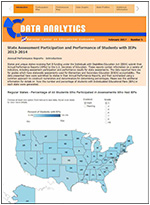 NCEO published the fifth Data Analytics report, State Assessment Participation and Performance of Students with IEPs, 2013-2014. States and unique states that receive IDEA Part B funding submit an Annual Performance Report (APR) to the U.S. Secretary of Education. NCEO's new online interactive data report highlights the APR data for 2013-14 state-level assessment participation and performance results for students with IEPs. Sections of this customizable report include:
Percentages of all participating students within a state who had IEPs
Student participation rates by type of test, content area, and grade level for individual states
Percentages of proficient students with IEPs, by type of test, content area, and grade level, for individual states
Data are presented in interactive maps that allow for comparison across states, as well as in individual state profiles.